HOW WE INSTALL GEOTHERMAL SYSTEMS
Horizontal Loop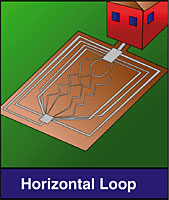 This is an economical ground coil design. The ground coil may be installed in a shallow excavation with an area of 1000-2500 square feet, depending on the size of your system. In southern or temperate areas, the coil needs to be buried about four feet deep. In northern or colder areas, the coil needs to be buried 24 inches below the frost line.
Excavation is typically done with a back hoe or track hoe, and may be performed as a part of normal site work in new construction. Backfilling is typically done using the front loader on the backhoe, but may be done more quickly with a small bulldozer.
With an experienced excavator operator and two installation technicians the ground coil can be installed in one to two day. Many ground coils have been installed under good conditions in one long day.
Vertical Loop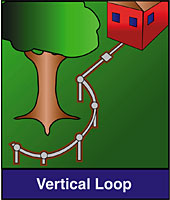 The Vertical Loop design is the latest design for the DX ground coil. Although it does cost a little more to install, it offers much more flexibility for small or rocky sites where a horizontal pit may not be practical. It also provides flexibility for homeowners who wish to work around existing landscaping or vegetation and want to keep their yards neat.
A vertical loop installation consists of 5 to 12 vertical holes approximately 3 inches in diameter and 55 feet deep. This work is easily performed using well-drilling equipment. The holes are the connected with a shallow trench and the factory-assemble coils are lowered into place.
The actual coil installation may be done in a few hours and requires only two installers, since much of the coil comes preassembled.
Trenched Loop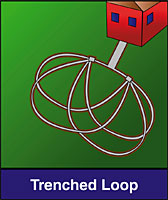 Although similar to the horizontal loop, the trenched loop design is most useful in heavily treed areas and offers the flexibility of working around existing landscaping or vegetation while providing minimal disturbance to an existing yard.
As the name suggests, the coil is buried in a shallow network of trenches. In southern or temperate areas,, the coil needs to be buried about four feet deep. In northern or colder areas, the coil needs to be buried 24 inches below the frost line.
In order to provide less disturbance to the site, a trenched design uses a larger diameter coil than the horizontal pit design. Therefore, less area is required for excavation.
Questions About Copper
Copper water pipes have been buried in the ground for over a hundred years in many parts of the United States. Copper is a "noble metal" and is noncorrosive in most soils. However, certain types of acids in the soil can effect the life of the copper. Also, naturally occurring or man made ground current (electric current present in the soil) can effect copper. Both of these conditions may be easily overcome as long as they are determined prior to installation.
Before installing the ground coil, the dealer or contractor should do a soil test to determine the acidity of the coil. Acidic soil can be counteracted by bedding the ground coil in a layer of limestone, manufactured sand, or flowable fill. Coated copper or cathodic protection are other viable safety measures. Only a small amount of these materials are typically required and everything is covered with four or more feet of dirt. None of these processes will prevent grass or landscaping from thriving.
The dealer or contractor also needs to test for ground current. A ground current protection system is available as a factory supplied option. The factory will assist with the details of the process and analysis.
HOME
All About Us | Our Products | Our Services | Our Equipment
Our Warranty Plans | How AC Works | How Contact Us | Facts on Central Air
HVAC Terms Used | FAQ's about HVAC | Ask Charles & Bill | Service Request
Intro to Geothermal | What is Geothermal? | How we install GEO | GEO Terms Used
FAQ's about GEO | Testimonials | Click here to email us
© Copyright 2002 - B&D Refrigeration.
All Rights Reserved.


Site Designed By:
Tom Stratton.com