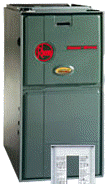 Rheem Classic 90 Plus™
.
The Rheem Classic 90 Plus Modulating Gas Furnace with Contour Comfort Control is exceptionally quiet. While providing heating efficiencies of over 94.3% A.F.U.E. It eliminates hot and cold spots by using optional remote sensors to analyze the temperature at up to six locations in your house. Thermostat temperatures possibly may vary no more than one-half of one degree.
.
The Contour Comfort Control is the furnace's "brain." This temperature control system constantly analyzes your home's temperature while directing the furnace to give the exact temperature you want at exactly the time you want it.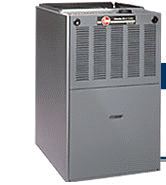 Rheem Criterion II™
.
The Rheem Criterion II Plus 2 LXE furnace saves you money on both natural gas and electricity, while quietly and dependably delivering the comfort you desire.
.
Most furnaces are either "off" or "on at 100%" capacity, depending, on the demand for heat. But the Rheem Criterion II Plus 2 LXE is either "off," "on at 70%," or "on at 100%."
.
For the majority of time you use your Criterion II Plus 2 LXE, it conserves energy by operating at the lower 70% level. Only on the coldest days, when you require more heat, does the furnace maintain operation at 100% capacity. This results in far better use of natural gas and lower energy bills.
.
Plus, the Rheem Criterion II Plus 2 LXE features our Integrated Control and Motor (ICM) - the most advanced, most efficient, and most dependable technology of any 80% gas furnace in the world. The ICM can operate on just 1/8 (approximately) as much electricity as a conventional motor. That's efficient!
Information About Rheem Condensers
.


..
Rheem RAKA Control Air Conditioner
1) This attractive wrap around cabinet of galvanized steel reduces unexpected repair expense by protecting internal components from tree limbs, baseballs, and other "hazards" of normal living. It's finished with a special electrostatically-applied paint to protect it from corrosion and keep it looking new.

2) A Rheem air conditioner is engineered to keep service time (and expense) to an absolute minimum. By removing just one panel, a service technician has complete access to all integral components for quick diagnostics and service.

3) This special base pan lifts the unit off the pad and away from corrosive condensation. Plus is lowers sound and vibration levels to keep the unit operating more smoothly and quietly.

4) You can expect longer service life from your fan motor because this patented motor mount prevents the damaging effects of rain and debris.

5) The wrap-around coil is made of high-quality copper tubing and corrosion-resistant aluminum fins for better air flow, improved efficiency, and lower operating costs.

6) If the refrigerant level is ever too high or low, these controls stop compressor operation to avoid compressor damage. These safe-guards are standard on high efficiency models.

7) Rheem also has air conditioners using Prozone and environmental friendly refrigerant.

HOME
All About Us | Our Products | Our Services | Our Equipment
Our Warranty Plans | How AC Works | How Contact Us | Facts on Central Air
HVAC Terms Used | FAQ's about HVAC | Ask Charles & Bill | Service Request
Intro to Geothermal | What is Geothermal? | How we install GEO | GEO Terms Used
FAQ's about GEO | Testimonials | Click here to email us
© Copyright 2002 - B&D Refrigeration.
All Rights Reserved.


Site Designed By:
Tom Stratton.com